Monday, 11 December 2017

Scream For Me, the internet! SCREAM FOR ME, THE INTERNET!!!!
Um.... what? The entire internet?! Yes, The ENTIRE internet. Another town, another place, another gig, another face - another tour, another Iron Maiden live DVD. Big stages, big riffs, big hair, men in shorts, and lasers. The latest live album though - their 9th in forty years, followed the usual "studio album / live tour / live album" cycle. But this time, they've done something , well - different. For this time, there is NO live DVD. Well, yes - there's a live concert movie. But There's no live DVD. No Live Blu-ray. No shiny discs on which to watch the concert. Nope. There's a double live CD - the double live album - but no DVD variant. Nope, instead what they've done is put it on the internet. By which, you can buy it for download (apparently), but who will do that when...well have a look at youtube. And on the bands own, official YouTube channel, is the new live concert film. Yes, The band have put it up on the internet themselves. In Full. For Free. And they put it up a week before the album is released. Well, thats a bold, and unexpected move. There's no guarantee it will be up there forever, for the next week, for the next five minutes. Impossible to tell, especially if the stated intention is to sell the concert movie online. But still - as a bold move, this is quite unprecedented.And, as it happens, it wa sup there for three days - plenty of time for people to acquire it. And - rather less commercially savvy - it seems that EVERY single track on the double live album and from the concert is still available, in full, on the bands official youtube channel. They just happen to be up there in one song chunks, rather than one single go. And what do you get? Musically, the band are on top form, as precise and honed as ever. The audio is razor sharp. The gig is a little shorter than previously tours - at 104 minutes, as opposed to their two hour plus shows of other years. And As is Maidens rather stubborn wont, it steadfastly refuses to wallow in nostalgia for the past ; something Maiden have been doing for a while now. if you want a Nostalgia tour, go see one of those ; out of the last seven tours, three of them have been focused exclusively on nostalgia, on playing exclusively old material from the first ten years of their recorded history. However, when it comes to tours coming out in conjunction with a new album, expect lots of new material ; after all, The tour for "A Matter of Life And Death" saw that album played in full. Every last song. All 73 minutes of it. The setlist of "Live Chapter" follows much of the same precedent - concentrating on mostly newer material ;with 6 songs from their most recent album "The Book Of Souls", running to 50 minutes - HALF of the running time of the album. And 1 from "Brave New World", and thats your lot. So 50 minutes of material from the new album, and 55 minutes of old stuff. Hardly a greatest hits tour, then. And even though the new stuff only sees six songs, it means each new song averages out at 8minutes plus - double the length of their older songs. If Maiden prove anything with this, its two things. Firstly, that they continue to push themselves as musicians with the complexity and length of their new material ; none of this stuff is simplistic, but complex, structured and multi-layered. Second, the new songs don't half go on. And ON. AND ON. And then on a bit more. With extra widdling. Songs such as "The Red And The Black". Not sure what its about - and whilst this sounds a lot like classic maiden - evoking the spirit of 1985's classic "Rime of The Ancient Mariner", it pales ever so slight. whereas that had light and shade, the dynamics on this are nowhere near as effective. Mostly because it doesn't seem to have any. It just seems to plod along at exactly the same tempo, for an entire 13 minutes and 17 ish seconds. Iron Maiden are a band that have grown old, not so much disgracefully, but certainly with disdain for the whole process. Like a lot of rock bands who get to tour the world, You know that the ability to do a thing does not mean you should do a thing. But still, bearing that in mind, there's something oddly less than serious than watching them doing that classic face that guitarists pull when playing a solo - you know, the same one that people make when they are about to reach sexual climax? That one. And You ain't lived until you've seen a twenty foot high monster in tribal facepaint playing air guitar and then scratching its bum in front of a stadium of people, eh? and yet, somehow, the band that once seemed masters of the stage seem oddly anachronistic at times. Bruce Dickinson - now clearly scrawny and less muscular than he has been for a long time (the fencing muscles seen in "Maiden England" are now absent) runs around the stage, often crossing the line between playfulness into unprofessionalism. I mean, who needs a guitaris doing backing vocals when you can simply swing the microphone away? (such as in "Wasted Years?") What about smothering mid-solo the other guitarist with a fluffy toy monkey, such as in "The Book Of Souls"? And just what the hell is he doing in "Death Or Glory"? Fist punching the sky? Ascending an invisible, imaginary ladder? Apparently its called "Climb like a monkey", but i call it "Put you hands up and obscure the band from anyone behind you. Especially those not blessed to tour over everyone else like a colussus. or Eddie himself."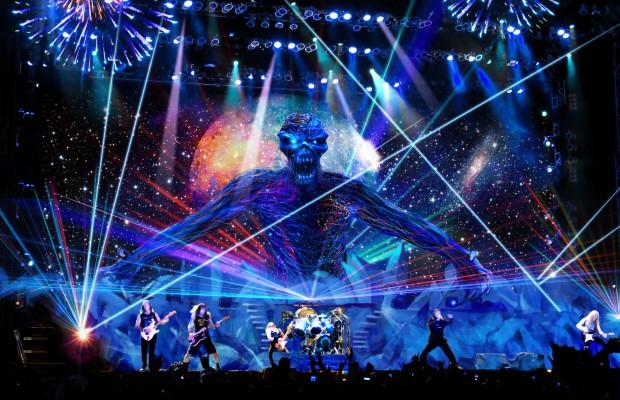 Visually, the concert movie is clearly and without doubt taken from a multitude of gigs - not just within the same song, but often within the same line of vocals. This makes for a sometimes rather disparate, uncohesive experience ; How the band members manage to change clothes mid song is a mystery to me, but that really makes it incredibly inconsistent. Continuity errors abound as the band go from playing arenas to stadiums to festivals and back again within the space of 30 seconds - the back walls of venues disappear at random, guitars change colour without a dropped note. Similarly the front rows change constantly, and the sweeping crane cameras don't even begin to ever stop. Unlike certain releases, it is not constantly full of ultra-fast, four frames at a time editing (fortunately!) but this is often just as disconcerting. The audio is clearly pulled from a multitude of different gigs (The onstage proclamations to the crowd Beunos Airies, Cape Town), yet remains top quality, and crystal clear throughout - the performances never dip below the level of slickly professional and impassioned ..... especially on the newer material. One Thing that can't be said is that this band don't give it their all ; despite Maiden being in existence for forty years , this remains them on top form. However, come the older material, the passion seems to dip slightly, as if it is perfunctory. And this isn't a coincidence - the closing salvo of "Fear Of the Dark" and "Iron Maiden" has been played together and used to close every show in the last 13 years - and 10 out of the 11 world tours) ; I'm not saying that that is predictable, but those same two songs have been used to close 742 or so out of the last 810 shows; 93% of shows of the last 20+ years have ended the exact same way. Pretty much every show since 2005 - Well, 446 out of the 468 shows since then (with 22 exceptions in 2009), and every single one since 2010. Despite its occasional predictability. It is to be commended for not relying on the bands slew of the greatest hits as predictable, rote crowd pleasers ; there is no "Run To The Hills" , fortunately, nothing from "Somewhere In Time", "Seventh Son", "No Prayer For Dying" appears here ; in fact for the three decades between "Powerslave" in September 1984 and "The Book of souls" in September 2015 only two songs appear. None the less, "Book Of Souls - Live Chapter" is an fascinating document all in all. It has a release strategy is bold and unexpected, but the most interesting thing seems to be that this has been done to coincide with the release of tour dates for 2018 - in other words, giving away one product (the live concert film), in order push another, far more lucrative product - the concert ticket. Cynical, moi? Well, There's a cryptic message at the end of the concert hinting at the end of Maiden, and a date. 13.11.17 ; the date that, as it turned out, the forthcoming "Legacy Of The Beast" tour was announced. Cynical, moi? Enjoy every last guitar shredding, pyro firing, laser shooting, 20ft high animatronic monster stomping, minute of it. Judging by the tour announcement, the band might be at "2 minutes to midnight"... but if so, this release is a fine fine way of documenting a tour. Either way, for as long as it is available for free, it is the best Christmas gift the band could give - a new live official, full concert video for free. And that is something to be thankful for.
P.S. And if you do want to watch the concert movie, it WAS here here... Link But as it is has now been deleted, You can still view the tracks as part of an official playlist located here instead.

Only registered users can write comments.
Please login or register.

Powered by AkoComment 1.0 beta 2!